Radio station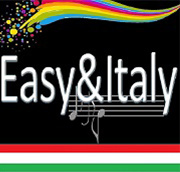 Update Required
To play the media you will need to either update your browser to a recent version or update your
Flash plugin
.
Parliamo di musica italiana: una lingua seducente ed ammaliante, complessa e che non si adatta (almeno così ci dicono) alle frasi troncate del rock, al suono secco dell'inglese. Una patrimonio musicale imponente, unico al mondo, ed accanto una tradizione che, per ogni regione, coltiva un sua storia ed un suo percorso, ad esempio la melodia napoletana è una vicenda conosciuta ed apprezzata in tutto il mondo.
Tutto ciò, unito ai grandi autori contemporanei ed ai moderni strumenti, fa della musica italiana attuale un territorio vastissimo ed unico, per questo che all'interno del panorama offerto da Radio Easy and Italy la musica italiana ha un suo spazio personale e dedicato. Easy & italy, il canale della musica italiana, di quella moderna e contemporanea, dei grandi classici dei decenni appena trascorsi. Un canale per tutti coloro che danno senso ed apprezzano un brano musicale solo quando ne possono apprezzare le parole, assorbirle, condividerle, per poi magari ricantarle.
Quindi la grande musica italiana su Easy&Italy, ma non solo. Visto che molti propongono radio si sola musica italiana , abbiamo cercato qualcosa di più .
Per fare di Easy and Italy un canale unico ecco l'inedita accoppiata: musica italiana e musica lounge, downtempo, ritmi lenti per rilassare e distendere mente e corpo.
Le grandi canzoni italiane e le atmosfere rilassate e rilassanti del downbeat, tempi morbidi e melodie soffuse, ed anche qui i grandi nomi e le inimitabili novità, cocktail music e downtempo mixtate al suono italiano , etnico per una miscela dal gusto inedito.
Morbidamente alternati l'uno all'altro ecco il suono italiano ed il lounge che si incontrano e si fondono per una canale ideale di chi ha bisogno di relax, di suoni d'atmosfera e di canzoni da capire, condividere e cantare, ricordare o magari riscoprire. Ma non basta ancora.
Incontentabili, su Easy&Italy nella notte europea arrivano i dj set de dj lounge e downbeat proposti dai più apprezzati e conosciuti dj del settore, per dare alle serate un sapore decisamente … d'atmosfera. Nel sito, a completare l'offerta, notizie d'attualita, notizie di cucina , di Moda ed informazioni sulle canzoni trasmesse Easy &Italy, un suono che non dimentichi.
---