Radio station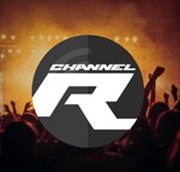 Update Required
To play the media you will need to either update your browser to a recent version or update your
Flash plugin
.
Channel R plays a specially curated mix of our favorite hits right now and from the last decade with fresh new and trending music that you will LOVE.
Commercial free and no talk, just the music!
We are streaming 24/7 and play your requests every hour.
About Channel R - Today's Hits
There are way too many options to listen to music today! On top of this there is an ever-growing number of places to stream music which is leading to a narrowing of listener niches into very specific genres or styles of music. Algorithm-driven recommendations have been hailed as a revolutionary way to explore new music to listeners however they just push listeners ever deeper into those same niches – "if you like this indie-pop song from Artist X, you will love this indie-pop song from Artist Y". Even mainstream music outlets are too focused on specific genres and Top 40 radio just plays the same songs over and over!
Feeling frustrated with all of this, we created Channel R from Seattle in February 2020 to be the ultimate destination for online radio. We want Channel R to be a place where you get to listen to great music – not because it's a huge hit right now but simply because it's good! We also want to be a place where you get to listen to the best of all types of genres – from Top 40 pop to R&B to rock to rap to EDM. We do lean more pop & EDM though! And most importantly, we want to share with you what WE like, not what a record company tells us we should like.
On Channel R, you can listen to an awesome mix of today's biggest hits, new releases, trending music and your all-time favorites from the 2010's with some 2000's thrown in the mix occasionally too. It's all 100% commercial free with no talk! Our playlist is personally curated, so while you'll hear the big hits, we won't play EVERY song off the Top 40! What we put into heavy rotation is also unique to Channel R – we're not a mainstream Top 40 station. So you'll hear the biggest songs in the world right now AND you'll also hear great songs from artists that are not always heard on the radio.
Check out our schedule for special programming including The Chart Show, Club R plus The New Music Show and tomorrows hits on Trending. We also have a weekly Discover show where we showcase up-and-coming artists.
We want Channel R to play what YOU love too. So send us your feedback and please follow us on Social Media – Twitter, Instagram, YouTube and TikTok.
Thanks for being a listener!
---